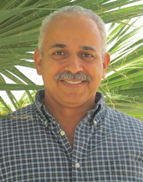 Prof. Khaled M. Bali
University of California, San Diego, USA
Prof. K. M. Bali is an Irrigation/Water Management Advisor and County Director at the University of California Desert Research and Extension Center in Holtville, California. He holds a Ph.D. Degree (1992) in Soil Science (soil physics) and MS Degree (1987) in Water Science (Irrigation and Drainage) from the University of California at Davis. He holds a Bachelor of Science Degree (1984) in soils and irrigation from the University of Jordan, Amman.
His main fields of scientific interest include water resources and management, water quality, irrigation systems, automation of surface irrigation, evapotranspiration, salinity, water quality, and reuse of wastewater for irrigation.
Dr. Bali a member of many professional societies as American Geophysical Union and United States Committee on Irrigation and Drainage. He is a U.S. Fulbright Scholar and served on a number of National and International Scientific Committees.

Prof. Jae K. Park
University of Wisconsin-Madison, USA
Dr. Park is a professor of the Civil and Environmental Engineering Department at the University of Wisconsin-Madison since 1988. He received a B.S. in Civil Engineering at Yonsei University in 1977 and a M.S. in Environmental Engineering at Seoul National University in 1979. He worked as a consulting engineer in Korea and Australia for two years after serving two and a half years of military service. He received a Ph.D. in Public Health Engineering at the University of Newcastle upon Tyne, United Kingdom in 1985. He worked as a research associate at the Sanitary and Environmental Health Research Laboratory, University of California, Berkeley from 1985 to 1988.
Since he joined University of Wisconsin-Madison in 1988, he has taught various environmental engineering courses such as water treatment plant design, wastewater treatment plant design, biological treatment, physicalemical treatment, hazardous waste management, solids and hazardous waste engineering, industrial water pollution control, etc. His research is in the areas of water quality management and river restoration; biological treatment; hazardous waste treatment; mass transport in the environment; fate of organic compounds in water and wastewater treatment processes; computer-aided design of water and wastewater treatment plants; and reuse of scrap vehicle tires as a contaminant sorbent. His research was supported by the National Science Foundation, the Department of Defense, municipalities, private industries, Wisconsin Department of Transportation, Wisconsin Department of Natural Resources, and various research institutes. He has served as the consultant of various governments, research institutes, utilities, universities, and industries all over the world.
Prof. Pedro Joaquín Gutiérrez-Yurrita
Instituto Politecnico Nacional, Mexico
Education
Jul 2007 – at present University of Alicante, Spain CANDIDATE TO PH.D. ON ENVIRONMENTAL LAW, Alicante, Spain
Jan 2006 – Jul 2007 University of Alicante, Spain MASTER IN ENVIRONMENTAL LAW AND SUSTAINABILITY, ENVIRONMENTAL LAW, Alicante, Spain
Jan 1994 – Jul 1997 Autonomous University of Madrid, Spain PH. D., BIOLOGICAL SCIENCES, Madrid, Spain
Jun 1990 – Sep 1993 National Autonomous University of Mexico MASTER IN SCIENCES, MANAGEMENT OF NATURAL RESOURCES, Mexico City, Mexico
Jun 1986 – Jun 1990 National Autonomous University of Mexico COLLEGE / UNDERGRADUATE, BIOLOGY, Mexico City, Mexico
Research Experience
Jan 2015 – May 2015 Visiting research-professor University of Alicante, Department of State Legal Studies Alicante, Spain
Jun 2009 – at present Full time professor National Polytechnic Institute, Interdisciplinary Centre for Research and Studies on Environment and Development, México, D. F.
Jan 1997 – Dec 1997 Post-doctorate research Autonomous University of Madrid, Department of Ecology, Madrid, Spain
Project: Ecological impact and management of Red swamp crayfish in Tenerife (Canary Island, Spain)
Jan 1998 – May 2007 Full time professor Autonomous University of Queretaro, Faculty of Natural Sciences, Santiago de Querétaro, Mexico